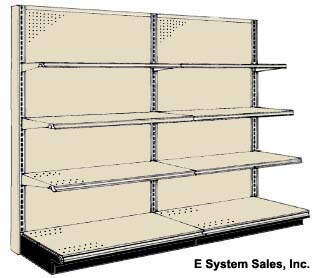 Is a great store fixture designed especially to display all types of merchandise for all types of stores such as: Hardware Store, Clothing Store, Beauty Supply Store, Convenience Store, Retail Store, Grocery Store, Pet Store, Toy Store, and more.
A Wall Section includes: one Basic Upright with Cap, one Base Shelf, one Kickplate, one Back Panel and one Top, Center, and Lower Spanner. If the Gondola is 78" tall or taller, the section would also include one Splicer Spanner.
What is unique about our Wall Retail Shelving, it is customizable to creat an aisle of shelving to most any length. We can create an aisle of shelving starting at 2' or 24" long to how ever long needed.
Wall Mount shelving height start at 36 inches with a maximum height of 96 inches. The base deck starts at 12 inches deep and can run as deep as 30 inches. Upper shelf depths start at 8" deep and run as deep as 30".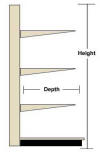 Wall Retail Shelving Sections may also be used as end caps when configured in a double back configuration. Typically a Pegboard Back will be installed in the front of the fixture and a Solid Back in the rear of the fixture.
What is the difference between Gondola Store Shelving and Wall? The Gondola shelving is also called Gondola Island Shelving. Using the term island the Gondola Shelving stands in the center of the floor on as a island type product display. The wall shelving is store shelving that is installed against a wall.